Desiccant Def Stan 81-68
Atmospheric moisture and adverse weather conditions can cause transit damage to items should they not be packaged well enough. Items that are particularly susceptible to aesthetic and/or physical moisture damage include optical equipment, electrical goods and items of clothing.
The addition of desiccant to packages can help to maintain the high quality of items prepared for delivery or placed into storage.
Our desiccant is made to def Stan 81-68 and sizes range from 25gm - 500gm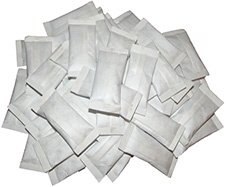 | Product Code | Description | Qty Per Box | Bundle Qty | Bundles 1-4 | Bundles 5 + | Qty | |
| --- | --- | --- | --- | --- | --- | --- | --- |